There are 10 different races in Skyrim, which already appeared in past Elder Scroll games. Every race has its own special abilities and skills, which differ from them from other races and player select race of its choice keeping in view their abilities. Some of these abilities are active every time while some are special abilities that can only be used once in a day. The ability of every race is different from other races. Some have the ability to breathe under water while some have the ability to control animals every ability is somehow special.
Now we'll see all the races and analyze their skills and abilities:-
1. Argonian:
Argonian are reptile race,they have gills on their skin, which help them to breathe under water. Argonians have sharp teeth lining outside their mouth which can be used as a weapon if they are unarmed they also have a long tail which gives them an advantage while swimming and as well as helps them to move faster, and also they are resisted to diseases.
Histskin : Invoke the power of the Hist to recover health ten times faster for 60 seconds.
Resist Disease : Your Argonian blood is 50% resistant to disease.
Water Breathing : Your Argonian Lungs can breath underwater.
 2.Bretons
Bretons are dark-haired people very intelligent and willful and have an outgoing personality. Bretons are weaned on Magic. Breton can boast a high resistance to destructive and dominating magical energies within their universe. Bretons are resistant to magic and absorbs magic from their enemies and hostiles.
Dragonskin : Absorb 50% of magicka from hostile spells for 60 seconds.
Magic Resistance : Breton blood grants a 25% resistance to magic.
 3.Dunmers
Dunmers mostly commonly named as dark elves. They are strong, intelligent and very quick. The dark elves are noted for their skills and balanced use of the sword. They have red glowing eyes, and their skin color is mostly the combination of green and gray. They are resistant to fire and cause fire damage to their foes.
Ancestor's Wrath : For 60 seconds, opponents that get too close take 8 points per second of fire damage.
Resist Fire– Your Dunmer blood gives you 50% resistance to fire.
 3.Altmer(High Elf)
Altmer or high elves are a race of elves. They are among one of the tallest races, and their skin color is mostly pale. They are slender with pointed ears and almond-shaped eyes. They are known for their enhanced magical abilities. High elves have 50, more magicka and they are born with 50 extra magicka.
Highborn : Regenerate magicka faster for 60 seconds and are born with 50 extra magicka.
5.Imperial
Imperials are well-educated and well-spoken and known for their discipline. The imperials are trained in heavy armor and sword fighting. They have the qualities to be a good ruler. Their skin color is not as pale as other races.
Voice of the Emperor : Calms nearby people for 60 seconds.
Imperial Luck : Anywhere gold coins might be found, Imperials always seem to find a few more.
6.Nords
Nords are tall and fair-haired people and known for their incredible resistance against cold and even magical frost. They are enthusiastic warriors and act as soldiers and mercenaries. They have the ability of battle cry and resistance against frost. These are capable warriors.
Battle Cry : Target flees for 30 seconds.
Resist Frost : Your Nord blood gives you 50% resistance to frost.
 7.Khajiit:
Khajiit are one of the ten playable races in Skyrim. Khajiit are famous for their agility and stealth. They are the evolved species of a lion. They have a long tail, pointed teeth and long claws, which can be used as a weapon if they are unarmed. They have the ability of night vision, which allows them to see properly in the dark.
Night Eye : Improved night vision for 60 seconds.
Claws : Khajiit claws do 15 points of damage.
8.Orcs
Orcs are green colored people and remain aggressive most of the time they are excellent warriors and trained in heavy armor and two-handed swords. They are berserkers meaning takes less damage and gives double damage.
Berserker Rage : You take half damage and do double damage for 60 seconds.
9.Redguard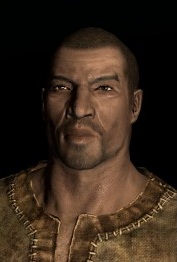 Red guards are one of the strongest races and are known for their skills in sword and shield. They are the first race that masters sword fighting and are one of the excellent warriors. Their stamina regenerates 10X times faster than other races, and they are resistant to poison.
Adrenaline Rush : Stamina regenerates 10x faster for 60 seconds.
Resist Poison : Your Redguard blood gives you 50% resistance to poison.
10.Wood Elf
Bosmer also known as the wood elfs are the people of the forests, they spend their entire life in forests and are famous for their great agility and speed. The Bosmers are suitable as agents, thieves and archers. They are resistant to poison and diseases and can control animals, to some extent.
Command Animal : Make an animal an ally for 60 seconds.
Resist Disease and Poison : Your Bosmer blood gives you 50% resistance to poison and disease.
We hope that this guide helps you a lot in choosing the right race for you.
RELATED POSTS